Dr. Pace engages students of all ages with words, music, rhythm and fun to help instill a true love of reading and learning.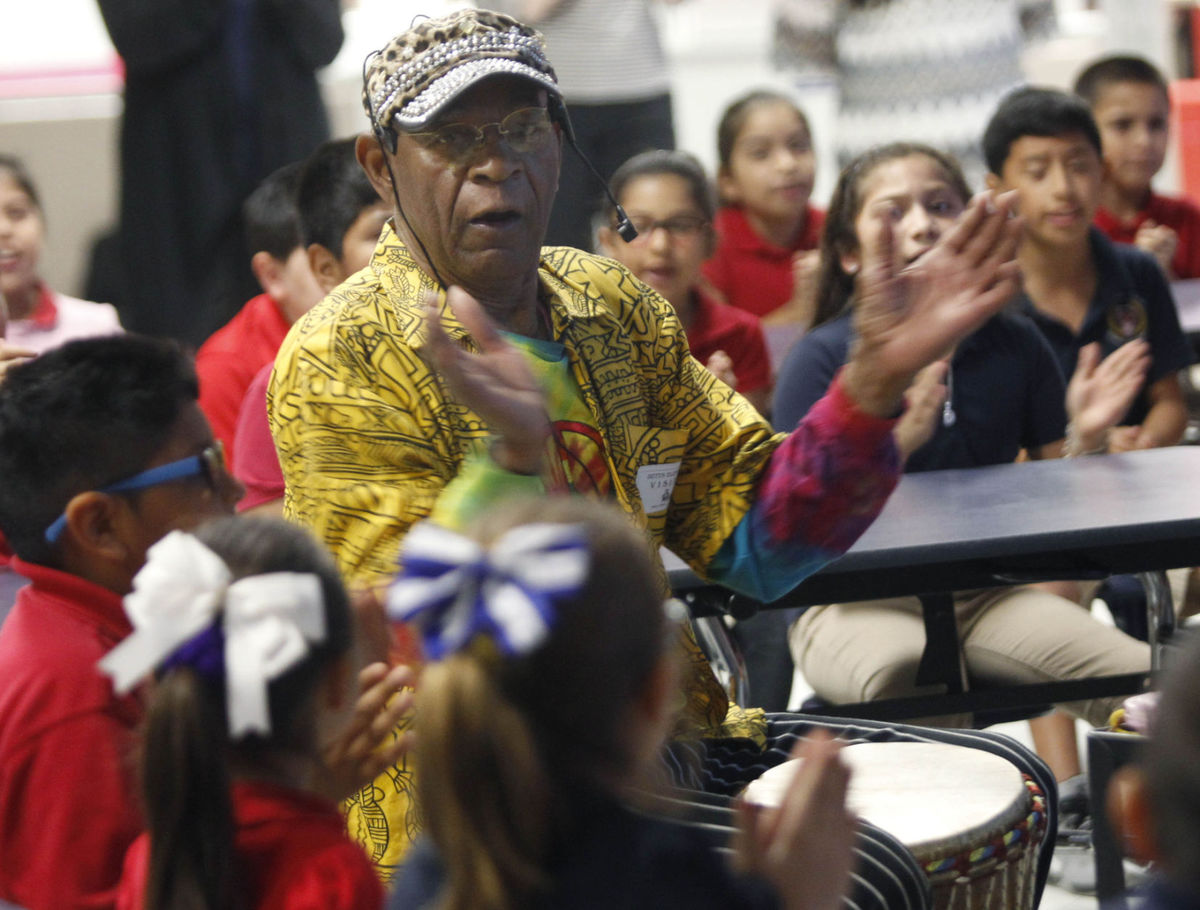 By Danya Perez-Hernandez/The Monitor
Photo by Nathan Lambrecht/The Monitor
EDINBURG — Dancing, clapping and tapping their knees to the beat of the drums was part of how a group of third-graders at Betts Elementary School learned about slavery Monday afternoon during a book reading by author Lorenzo Pace.
The reading of "Jalani and the Lock" served several purposes, from commemorating the Read Across America week to kicking off the University of Texas Rio Grande Valley's Festival of International Books and Arts known as FESTIBA.
"This is what we do during FESTIBA," said Dahlia Guerra, dean of the college of fine arts at UTRGV. "We promote our authors from our campus and we engage the community in literacy."
Pace wears many hats, from being an author of four children's books, to being a sculptor and painter whose art can be found around the world. And for the last eight years he has made the Rio Grande Valley his home working as an art professor at UTRGV.
Unlike most book readings, Pace began his interaction with the children with music using flutes, drums and laughter, seamlessly engaging them to follow along clapping and tapping their knees to follow the rhythm.
About 70 third-graders in the room had their complete focus and attention on Pace, who repeated every single word and sound amid giggles.
"It relates to the book and you are trying to go back to when you were a child," Pace said. "That's the fun part. I have to engage the kids. That's very important."
But even thought the room was full of laughter, music and dance, "Jalani and the Lock" tells the painful story of a boy who was taken from his home in Africa and brought to the United States as a slave. A story based on the life of Pace's great-grandfather.
Locks and chains, the book says, not only enslaved Jalani but it stripped him of his liberty to be a child and change his language, his food and his clothes.
"But they could not change his memories of home," Pace's story says.
For Pace it was important to have the children follow along the reading, not only to keep their attention, but to have their young minds internalize what Jalani was going through.
"The audience begins to take the story within themselves," he said. "The main subject is that you try to prevail over adversity and begin to respect our people. That we are all connected. … We all have a human spirit and that's what I'm trying to get the kids to understand."
For librarian Ada Mendoza, who helped put the reading together at Betts Elementary, the idea of having fun while reading is key for having children get excited about reading.
Mendoza said she had already read the book to most of the children and discussed the importance of the message with them, but seeing them engage in the Pace's reading was impressive.
"It's to instill the love of reading into kids and teach show them that is not boring," Mendoza said. "Somebody like him that uses all this entertainment and music along with a story to tell and it's a book to read, it's just something to help them realize that they can learn something but it can be fun at the same time."