Go behind the scenes for an exclusive look inside the studio of Dr. Lorenzo Pace. School Library Journal visits Dr. Pace's Brooklyn, N.Y. art studio to learn more about his work and influences.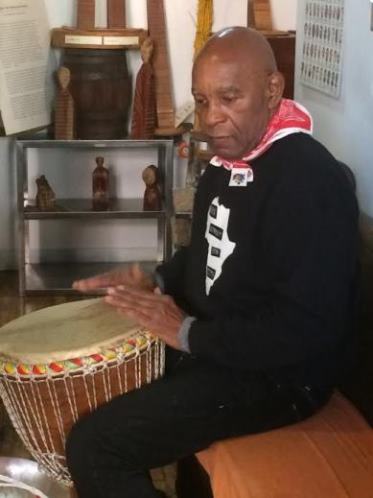 School Library Journal editors Kiera Parrott and Mahnaz Dar got a peek at author, artist, and professor Lorenzo Pace's studio, located in Brooklyn, NY, on Monday, December 29. Pace is perhaps best known for the sculpture Triumph of the Human Spirit, a monument honoring African slaves buried at the site, erected in 1993. In 2001, Pace wrote and illustrated Jalani and the Lock (Rosen), about his great-grandfather, who was captured in Africa and brought to America as a slave. Pace still has the lock that shackled his great-grandfather, which was passed down to him over the years, and a copy of the lock is buried within the monument.
As a follow-up to his poignant book Jalani, Pace is publishing three other books under the series title "The African American Quartet" Frederick Douglass and the North Star, Harriet Tubman and My Grandmother's Quilts, and Marching with Martin (all Rosen, 2015). Though his books deal with challenging subjects, all are marked by innovative, mixed-media artwork that adds an uplifting, inspiring tone.
Read the complete story and view photos from School Library Journal