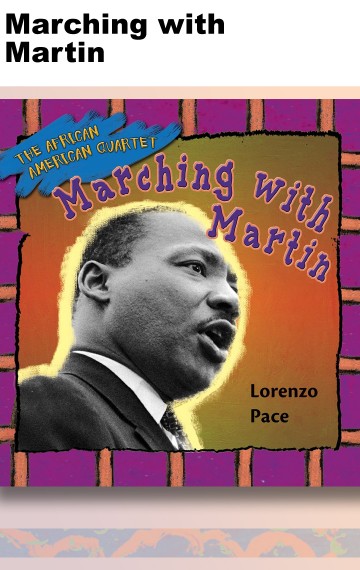 Publisher:

Rosen Publishing

Edition:

The African American Quartet

Available in:

Hardcover and eBook

ISBN:

9781477792858

Published:

January 15, 2015
Purchase
Dr. Lorenzo Pace had the privilege in his youth of seeing the American Civil Rights Icon Martin Luther King, Jr. lead a march in Chicago. He was forever inspired.
Using artistic collages and heartfelt words, Pace's Marching with Martin helps children gain a deeper understanding of how King's fight for social justice lives on in each of us and can be applied to life today. The author/artist's unique cultural perspective of the era is made immediate and accessible to elementary students with his artistic collages of primary source materials.
Dr. Pace is the former director of the Montclair State University Art Galleries in Upper Montclair, New Jersey. He is the sculptor commissioned to create Triumph of the Human Spirit for the African Burial Ground Memorial in Foley Square Park in New York City. He is currently a Professor of Art at the University of Texas Rio Grande Valley.