Dr. Lorenzo Pace combines a vivid imagination, an irrepressible sense of humor and a sonorous theatrical voice—perfect for performances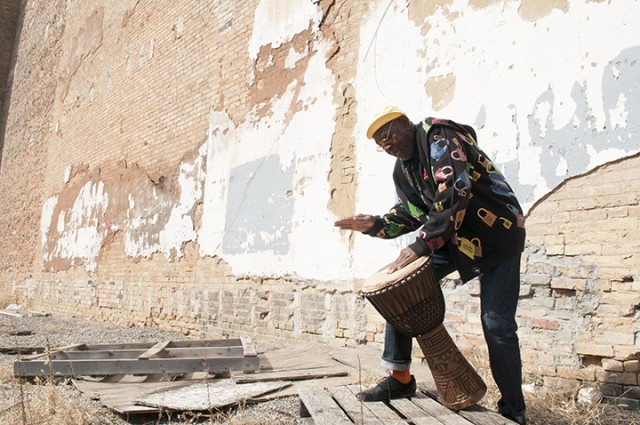 By Barbara Sealock/Illinois State Magazine
Lorenzo Pace is one of the most versatile multimedia artists around.
A font of energy and creativity, he combines a vivid imagination, an irrepressible sense of humor and a sonorous theatrical voice—perfect for performances.
Pace creates art, not merely for art's sake, but for raising awareness—on message, mission and purpose. He intends that people merge diversity in unity and live together in peace and harmony; championing justice and celebrating freedom, family and heroes who overcame great odds to success.
Connecting the dots between the shadows of the past and hope for the future, his work telescopes time. He is a deep thinker, a committed educator, a lifelong learner, and child-at-heart, who never believed in limitations or shied away from truth-telling.
"Artists don't have to lie," he said with characteristic humility. "They try to bring the truth. I'm a multimedia artist. I like all the arts—music, dance, theatre, and I like to write. My work is eclectic. I mostly use found objects. I reconstruct and I like to use indigenous materials from a place I just happen to be at the moment."
Something of a multimedia experience himself—wearing a gold shirt and yellow baseball cap or pharaoh's headdress; red, green and blue running shoes; Mickey Mouse watch and sunglasses that flash blue lights during drum-enhanced performances—Pace is a compelling one-man show.
During a spring campus visit, he performed Jalani's Journey based on his bestselling children's book, Jalani and the Lock, the true story of his great-great grandfather's capture in Africa and enslavement in America. Born with a genius for narrative, he held the audience spellbound with his interactive style, playing drums and flute, rattles and whistle, with a subtext that teaches concepts of slavery, emancipation, freedom and compassion.
"The subject of slavery is a difficult topic, on both sides," he said, recalling the day his 8-year-old daughter asked, 'Daddy, are we from slaves?' "How do you explain that to your precious daughter to make her feel that she is OK, she doesn't have to be ashamed about that process? And how do you give a sense of respect to her, as well as to where she came from?"
Jalani and the Lock, an answer to these questions, made the New York Times bestseller list and was named "One of the Best Children's Books for 2001" by the Los Angeles Times. The book has been translated into Dutch, Afrikaans, French, and Spanish; adapted into a musical in Amsterdam, Utrecht, and Rotterdam; and published as a comic book distributed to all the school systems in the Dutch colony of Suriname, South Africa. A second edition was published in France in 2010. That same year Pace presented it at the International Museum of Arts and Sciences.
"I use it as a teaching tool," Pace said of the book that received the Skipping Stone Honor Award. "It just goes to show what can happen with one little document. You never know how it will affect people."
One of 13 children, born in Alabama and raised in Chicago, the son of a minister, Lorenzo was expected to follow in his father's footsteps. But he had other ideas and moved to Paris, thriving in an art-saturated culture. He returned after a year, a changed man, set on an art career.
"The art experience just grabbed me," he said, recalling a walk on Chicago's South Side beach, where he saw a man carving "The Last Supper" in wood. "I didn't know I could do anything artistically, and I sat there watching him for hours." Pace went home and made his first piece—a polished and powerful African mask. "That's how I started making art."
His book, Jalani and the Lock, teaches concepts of slavery. It was inspired by the lock that kept Pace's great-great grandfather captive during his journey to America as a slave.
The University of Illinois-Chicago art dean saw his work at a South Side art gallery and offered him a full scholarship. After one year at the University of Illinois he left and went to the School of the Art Institute of Chicago. Pace earned his B.F.A. and M.F.A. with a second full scholarship. Doors, it seemed, flew open at every turn.
School of the Art Institute President Donald Irving introduced Pace to Fred Mills, then chair of Illinois State's School of Art. Soon after Pace enrolled in ISU's art education/administration doctoral program.
"Fred and Lois Mills were so warm and welcoming and treated me like their son. Initially I wasn't going to fool around with a doctorate, but I am so happy I did. It opened me up to another level I never thought I would experience. My time at ISU is one of the most beautiful experiences of my life," said Pace, who was inducted in 2011 into the College of Fine Arts Hall of Fame. "I give credit to ISU for propelling me to grow and change, to explore."
"He so clearly wanted to grow," Lois recalled. "Fred saw that in him and encouraged and nurtured him. The outcomes have always been good. Not without difficulty, but the outcome has always been good."
Max Rennels oversaw Pace's doctoral thesis and remembers his unusual creativity. Moments before defending his dissertation, Pace lit a candle and played a flute concerto. Senior professors in the room were shocked. "He was the kind of person who knew what he wanted to do and did it," Rennels said.
After completing his doctorate, Pace returned to Chicago to teach at the University of Illinois-Chicago before leaving for New York City. He joined a community of like-minded artists in Harlem. The road to recognition was not an easy one.
Pace maintains strong ties to campus. During a 2010 Homecoming visit he reunited with Linda Bowman, left, President Al Bowman, and Lois Mills. Lois and her deceased husband, Fred, were instrumental in Pace completing his doctorate at ISU.
"You do the work because you love it. It's something that's in your soul, in your being. I think that's the struggle of an artist, not only in New York, but throughout the world," he said. "It's the fact that you sometimes have to work out there in the wilderness and hopefully at some point before you leave the planet, they say, 'Oh wow, you've been doing some good work.'"
There is no doubt his unusual approach has captured attention and praise.
A stick in a Central Illinois cornfield and an exhibition featuring Tutankhamen at Chicago's Museum of Science and Industry sparked Pace's 10-year interest in and further exploration of Egyptian customs and cultures, culminating in a daring multi-media production at the School of the Art Institute in 1980.
"After returning from the exhibit, I came up with the idea of mummification. That's when I really began to get into performance," Pace said. In the production he played a pharaoh, wrapped and lying in state as royal power was transferred to the next generation represented by his then four-year-old son, Ezra.
"I also wrapped the president of the School of the Art Institute, an NBC news anchor man, and a Chicago philanthropist," he said. "It was an enormous project. It was a very controversial and different thing to do, and it got very good reviews."
His art installations make use of found objects and recyclables that help tell the story. At the center of his homage to Stevie Wonder, for example, is an image of Wonder at 14, salvaged from the Apollo Theatre in New York during its 1986 renovation. Pace drove by and saw memorabilia in a dumpster. He jumped in and retrieved posters of many of the great performers who appeared at the Apollo Theatre.
"I love eclectic material. I'm all over the place in material, and if I see objects that I like that are in the natural state, I utilize them directly in the installations," Pace said.
In an art installation honoring his mother, who was also a quilt maker, Pace used some of her designs and fabric. The piece and her quilts are part of the permanent collection at the New Jersey State Museum in Trenton. "I called it "Mary Pace and the Senegalese Dancer" because I've traveled through Senegal many times, so I incorporate her quilts with the dance of Senegal in West Africa."
His most impressive creation is a monument commemorating the enslaved population of Manhattan. The "Triumph of the Human Spirit" is a soaring 60-foot sculpture made from 300 tons of black granite that took 10 years to finish.
Completed in 2000, the piece was commissioned after relics from enslaved Africans were discovered during an excavation in New York City's Foley Square. The monument is situated on the excauvation site, one of the city's most expensive footprints located just four blocks from the former World Trade Center, five blocks from Wall Street, and directly in front of the U.S. Federal Court.
Its elemental shape—based on the Chi Wara, a headdress from Mali, West Africa, and imitative of antelope horns—slices across the skyline as if in dialogue with its powerful Wall Street neighbors. It is the largest site-specific structure tribute to individuals enslaved in the United States. Embedded in its base is a replica of the lock from Pace's great-great grandfather.
Beyond artist, Pace is an inspirational mentor. He has taught at the University of Illinois-Chicago; Medger Evers College in New York; Montclair State University in New Jersey; and is currently on the faculty at University of Texas, Pan American, in Edinburg, Texas. He embraced the Hispanic lifestyle there, and wore Mariachi garb to the Beijing Olympics in 2008, where he was invited to exhibit his work as one of 300 artists from around the world.
He proudly represented the United States at the games that had the theme "One World, One Dream." China's invitation to 45 heads of state from African countries inspired Pace to buy 200 Chinese brooms and mops. He painted them all black and red, the colors of China and Senegal, symbolizing friendship and collaboration between the two nations. The overarching materials met in the middle, with an altar and sun. The installation opened in 2008 for the Olympics and was exhibited at the Sunshine Museum, the largest contemporary art museum in Beijing, China.
The experience is one of many global artistic encounters for Pace, who took students from Montrose State University to Senegal every year for five years. They lived in thatch huts on an ocean beach.
Another international venture involved working with disadvantaged French-Algerian teens in the South of France, where Pace taught them to use locally available materials—specifically the colorful fabric pieces from local window awnings. He later brought some of the students to visit New York City.
Such experiences prompt Pace to tell his students "art can take you anywhere." He encourages them to follow their dreams and reminds them that "change is inevitable; growth is optional; collaboration is imperative."
"I think art is the most important thing in the world because it tells the history of all societies. It tells a story. If the artist hadn't wanted to tell the story, we wouldn't know what the Renaissance was like. We wouldn't know what the Egyptians did. Every aspect of our society is created by the individuals who set up the perimeters of what we know about the people. And sometimes artists are the least ones acknowledged."
He feels called to the path he has taken. "I'm just being myself. That's the way I approach life, that's the way I approach my art, that's the way I approach living. In a way, my art is my ministry," Pace said.
What he preaches to his students is his belief that "they are the closest thing to what we consider God because they're the ones that make things. Creative people," he said, "are in a sense engaged in work with the Creator. Everything we use, build, see—history and story—all is in the province of creative minds."
THANKFUL FOR ILLINOIS STATE'S INFLUENCE
Illinois State was a place of inspiration for Pace, who speaks with gratitude when recalling his experiences as a doctoral student in the School of Art.
"I give credit to ISU for propelling me to grow and change, to explore," he said. "What students need—acceptance, to be understood and encouraged—I found at ISU."
Pace came to the University after living in Chicago for many years. He found essential peace and quiet on campus. "You could think, you could create, and you could work, and I needed that change,"
he said.
"Being part of the school taught me to bring people together and be a force for good. I think when you have an institution that gives the founding and the grounding of a person, it will last for eternity, because that person is the one you inspire to go out into the world and change the world."
That has certainly been Pace's mission since graduating in 1978. His success since then resulted in his selection for the Lifetime Service Award from the National Conference of Artists, which is the largest and oldest art organization of African American artists. The award recognizes his impact as an artist, performer and educator. He has intertwined all three in his work, and is especially passionate about teaching.
"I think art is about education," he said. "Art opens you up to other ideas and other cultures and other venues that you would not normally be a part of. I think art is the essence of life and culture and being, as a community. I guess that's why I've just been in education for so long.
"The educators and the arts have the vital role in any culture. Art is the essence of the people. They tell the story of the people. They tell the story of our times. If we don't support the arts," he warned, "then we are considered a dead society."
By Barbara Sealock/Illinois State Magazine